Have a question?
About this item:
High Quality-This wallet case is precision made from High-Quality leather. They look stylish and feel natural and soft.
Multi-Function Wallet Case-2 card slots for your card IDs also feature a cash money pocket. Perfect Combination of wallet and cell phone case. Smart Design allows you to easily flip the inner holder to access all your cards conveniently. Accessible to all the phone's functions such as camera, Suitable for everyday life and business trip.
Magnet Closure-Apply invisible magnet auto-closing function, it protects your phone from drops or bumps.
Kickstand Function-This flip cover featuring a kickstand allows you to enjoy your phone without holding it by hand, even when you do some housework, you can still enjoy your favorite video.
Simple Nice Design-Conveniently designed to provide quick access to all touch controls, features, and ports, no need to remove when charging, plugging in, adjusting the volume, or switching on/off and taking photos or video.
Multiple Colors Available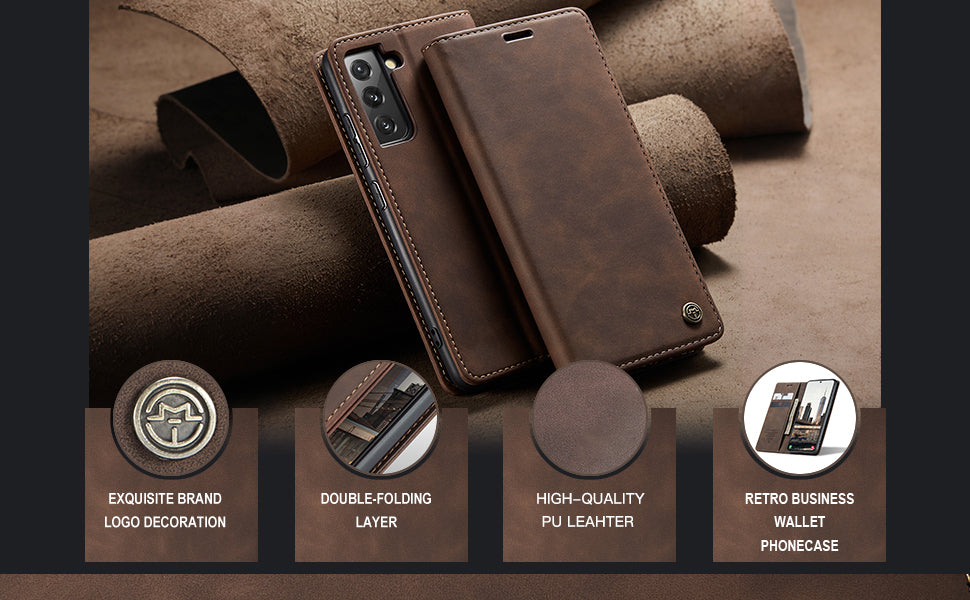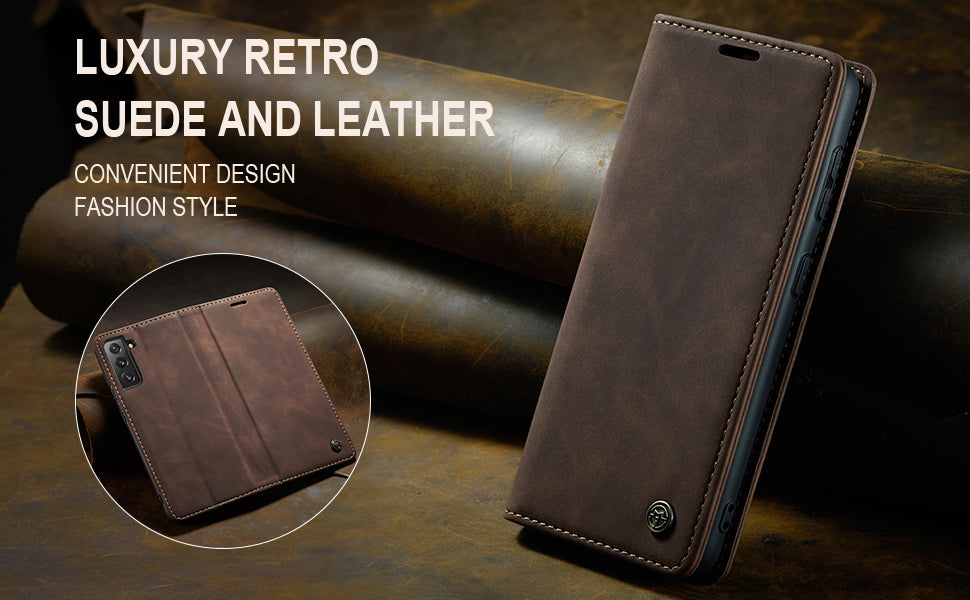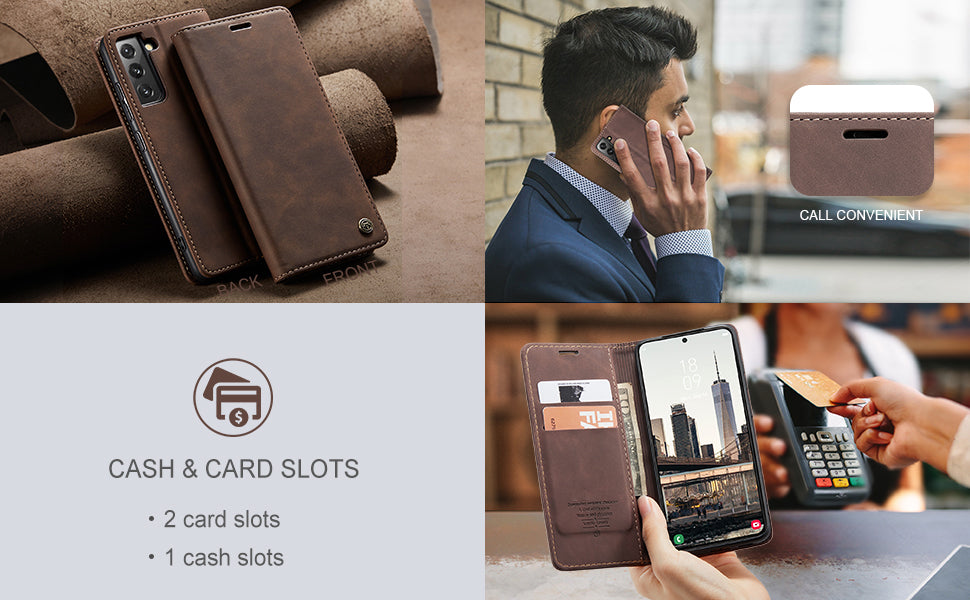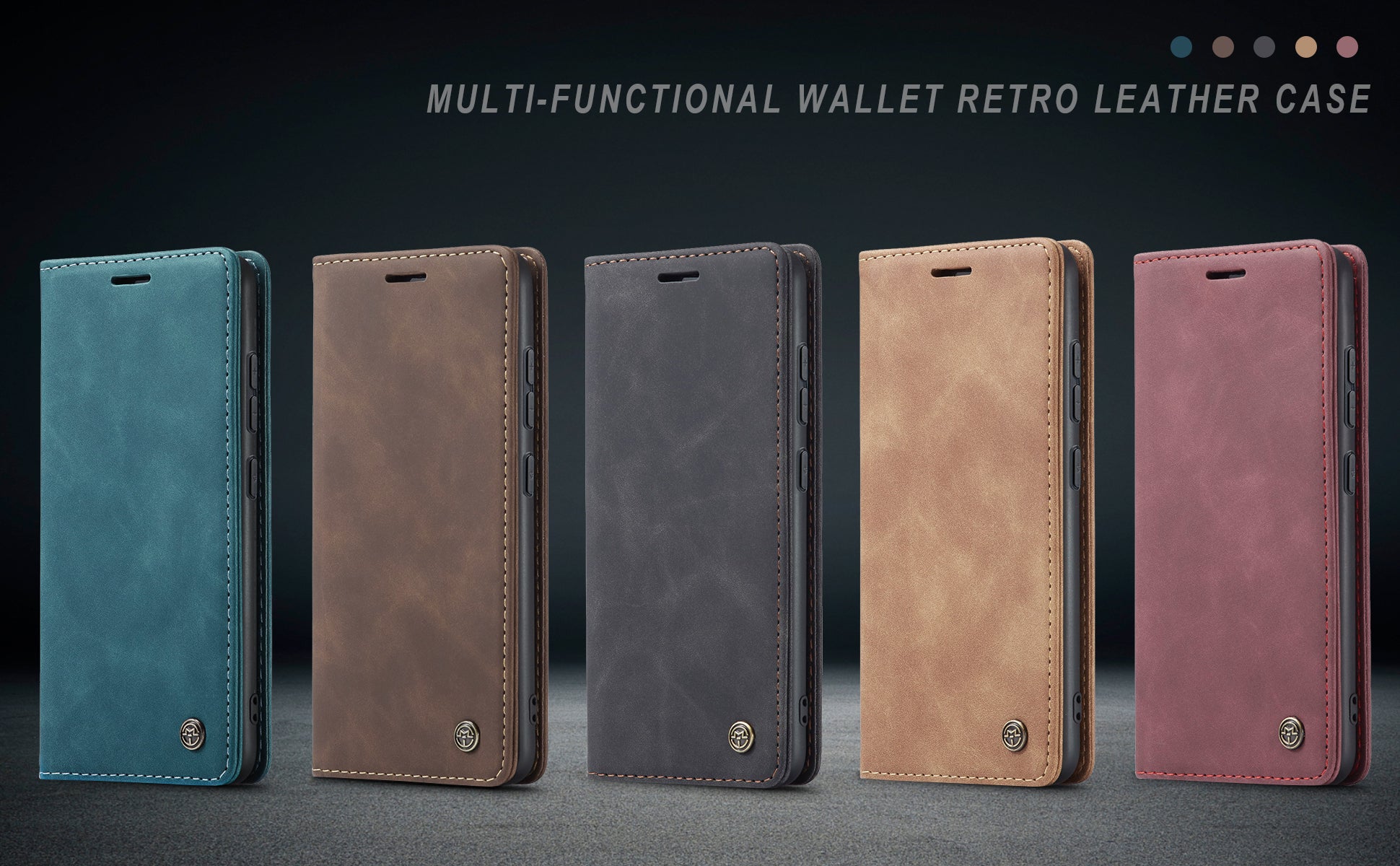 Casekis Retro Wallet Case For Galaxy S22 5G
The Case is Absolutely Great 👍
Casekis Retro Wallet Case For Galaxy S22 5G
Casekis Retro Wallet Case For Galaxy S22 5G
Like it
And so far it's working very well
Will the phone charge wirelessly with this cover on or do you have to remove it?

Please do not worry, you do not need to remove it when you charge wirelessly.

Does it fit the s22

This phone case is compatible with the Galaxy S22.

Do you carry any snap on cases for Samsung S22

Casekis RFID Cardholder Phone Case
Casekis RFID Cardholder Wallet Phone Case
Casekis Genuine Cowhide Leather Button Flip Phone Case

How do I know what phone I have?

You can determine your phone model by going to Settings >> About Phone >> Product Name.

hOW DO i FIT MY S22 INTO THE PHONE CASE?

The case has a place to hold your phone.

Do you have a case for the NOTE 22s

Sorry, I don't know your phone model
You can check your phone model through Setting>>About Phone>>Product Name, and I can recommend corresponding products for you.

Do you carry a 20w wall charger To fit the court that I ordered with it

Is the cost USD or AUD advertise in Australia price it in AUD ffs.

USD 21.99
AUD 32.77

Will it fit a Samsung phone ?

Hello, you can find your Samsung phone model in the model selection column.

Does it fit the S22?

Yes, it fits the Galaxy S22

Does this case fit the Gallaxy S22 Ultra

What are the dimensions of this case? I have an s22 plus

This phone case is made according to the size of the Galaxy S22+ 5G, which will be slightly larger than the phone.

Do you have warranties for the item?

We will give you a refund in the short term due to quality problems.

I have a Galaxy S22. I am not sure, but I don't think it's a 5G. Model: SM-S901U. If I can't order this one, do you have a phone case that would? Thank you.

Just confirmed for you that your phone is Galaxy S22 5G available for purchase.

Will an otter box shell/phone fit inside this cover

Sorry, this phone case cannot be used with other phone cases at the same time.

What are the overall dimensions of the case with a phone

It will be bigger than the size of the phone.

I have an s22 ultra I need this similar case

FOR S22 Ultra 5G
https://casekis.com/products/casekis-retro-wallet-case-for-samsung-galaxy-s22-ultra-5g 

Looking for 2 but different colors

Our phone case is available in 5 colors for you to choose from.