Have a question?
About this item;
Please confirm your phone model before purchasing.

4 Card Slot, Magnetic Flap Closure: With 4 card slots pocket and 1 zip pocket, this bag allows easy access to your credit card and cash while on the go. Great for shopping, daily city walks, traveling and so much more. Plus, Featuring a flap closure with a magnetic snap to secure it in place, this wallet case will keep all your belongings safely in place. (Note: Some small-sized phones have 2 card slots: Galaxy S21/S22/S20,iPhone 13mini/12mini/11pro/X)
Crossbody Shoulder Adjustable Strap For Everyday Use: With an adjustable shoulder strap, you can also adjust it to your preferred length or even wear it as a crossbody bag for a different look. Besides,3 lanyard holes on this wallet case, which means it has two different ways of wearing.
Kickstand Function: It could be a kickstand or holder for converting into a multi-angle comfortable view for Reading, Watching Movies, Playing Games, and Browsing the Web.
High-Quality Material Wallet Case: Each flip wallet case is handcrafted and made of superior faux leather, which is durable, good handle, is anti-scratch, and is shockproof. This Wallet Case with a shoulder bag can withstand even daily use and stay by your side for years to come and go.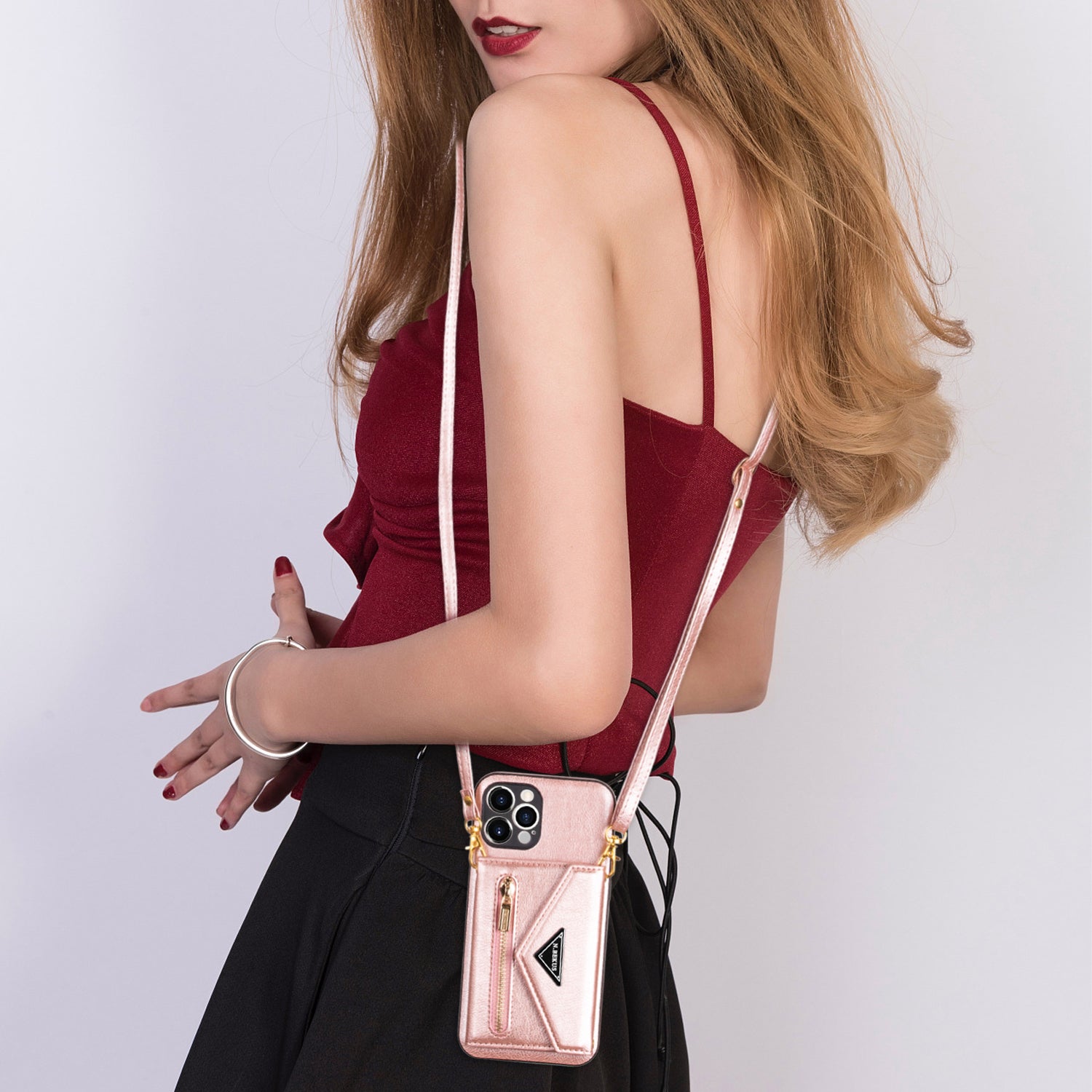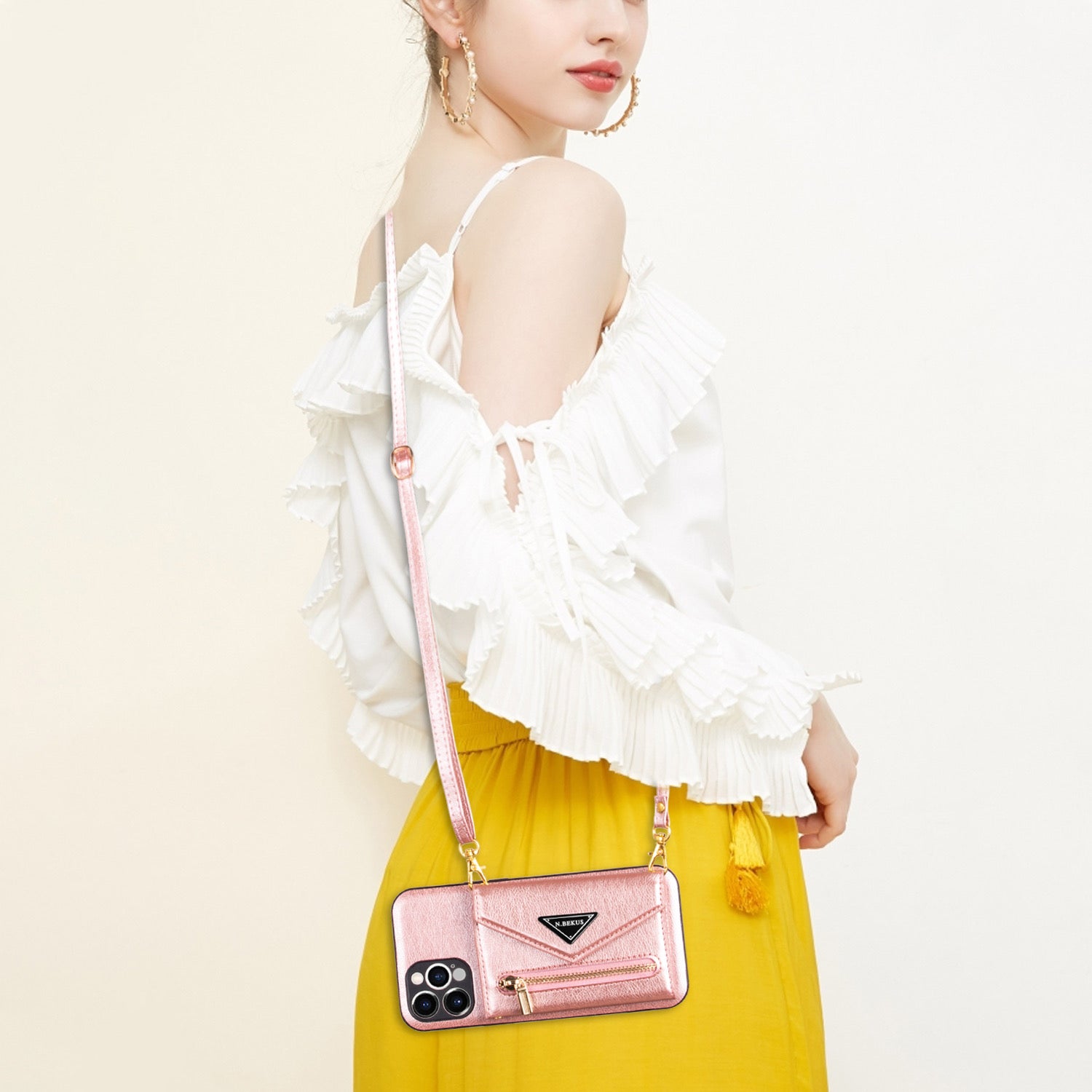 Casekis Crossbody Strap Leather Magnetic Wallet Phone Case Rose Gold
Nice case
Seems to be of a reasonable quality. Happy to recommend.
Casekis Crossbody Strap Leather Magnetic Wallet Phone Case Rose Gold
Perfect but I goofed
I love this case - it is pretty and practical. Just about perfect except that I goofed up and ordered the wrong size
Excited
It took me a long time to find a case that would fit my iPhone 11 Pro. When I "stumbled" upon this site on the internet I was so excited and ordered a case. I was astonished it fit perfectly. I'm going to look for another so I can prop up my phone when reading or watching video's. It's not easy to hold your phone for so long. PLUS, the prices of their cases are so reasonable. Casekis, thank you so much for your wonderful case and all your selections.
How secure is the phone inside the case? Any chance it will come loose or fall out?

The phone case perfectly wraps around the phone, so feel free to use it.

Galaxy fold 3?

Perhaps you can take a look at other Z Fold 3 5G phone cases:

Casekis Leather Zipper Phone Case For Galaxy Z Fold3 5G
Casekis Luxury Flip Leather Card Slots Phone Case for Galaxy Z Fold 3 5G

Did i order the cross body? if not mistaken purple phone case please change order for Samsung Galaxy flip phone to the cross body one and advise further shipping address 43 Stirling Circuit Pimpama qld 4209 can be rosegold if you do not have purple or mauve. Ordered today 26th May 2023. 0407305236

I have seen your order, and you have successfully placed it. However, we need to verify the address with you. I have instructed our customer service team to send you an email. Please check your inbox.

What case set a galaxy A03

Sorry, we do not have Galaxy A03 cases.

Does it fit a galaxy ao1

Sorry, this case does not support Galaxy A01

Does it protect your card information from being stolen? RFT?

This phone does not support RFID, you can search "RFID" to find it.

Have I phone 8 plus. Which case ?

Is this case for galaxy s23 ultra phones ? Does the card purse come off the back of the phone?

This case supports Galaxy S23 Ultra. The card holder will not fall off.

Will A Samsung Galaxy A50 work with this?

Sorry, this case does not support Galaxy A50

Do you have any for a Samsung 23

You can find the Galaxy S23 5G in your model selection

Can u take pictures, or u have to open Im looking for some to wear around neck on motorcycle and able to take pictures going down the road.

This phone can take pictures directly without opening the cover.

I have a moto G6.... would any of these fit?

Sorry, we do not have moto G6 cases.

Do you have it for the IPhone 11

Casekis Crossbody Strap Leather Magnetic Wallet Phone Case for iPhone 11

Do have these for Android phones?

You can confirm your phone model through Setting>>About Phone>>Phone Model, and then find your phone in the model selection column on the page.

Are credit cards protected?

This phone case has no RFID, you can search keyword "FRID" in casekis.com to find more phone cases you want.

I have an IPhone 13max. With At protective cover and protective screen which makes it larger. Would my phone work in this without taking protective cover off. Is there a return policy if it does not fit?

1. This phone case cannot be used with other phone cases at the same time.
2. Our mobile phone cases are all customized according to the size of the mobile phone. As long as you do not choose the wrong model, it will perfectly fit the mobile phone.
3. We support refund (if there is quality problem)

You have SG A32 5G

You can click here: For Galaxy A32 5G Cases

I haveGS 3w can't fine a case for it,

Excuse me, what is the mobile phone model of GS 3W?

Need a case for Samsung galaxy a21e

You can go through Setting >> About phone >> Phone Model. Check your phone model: Galaxy A21s or Galaxy A21.
If your phone is a Galaxy A21s: Galaxy A21s Phone Cases

I have a IPhone 12

I need S22 5.5"

You can find the Galaxy S22 5G in your model selection

I have a iPhone 10 pro does it fit mine?

iPhone Xs Max / iPhone Xs / iPhone X / iPhone Xr
What is your mobile phone model?

Will this case work either a Galaxy13 5G?

Galaxy A13 5G
You can take a look at other cases for the Galaxy A13 5G.

Does it fit a iPhone 7

Yes, this phone case is suitable for iPhone7, but the iphone 7 has two card slots, because the size of the phone is small, it cannot be designed with 4 card slots.

Do you have this to fit a Samsung Galaxy S10?

This case does not support Galaxy S10 4G

Will it fit samsung 21 FE 5G?

This phone case does not support S21 FE
You can check out other Galaxy S21 FE 5G Cases

Does it have RFID

This phone case does not support RFID

Can you use this if you have a pop socket on your phone?

If your phone has a Pop socket, you will not be able to use this case.

What does the front of the phone look like? Does it have a flap to cover the front of the screen?

This phone case does not have a flip cover to protect the front, we usually advise customers to buy a tempered film.

I don't see anywhere where it is RFID safe?

Sorry, this model does not support RFID

Do you have to remove it from the case to plug in to a charger?

No need to remove the phone case, we have reserved a hole for the charging socket

Does it hold to a magnetic grip?

Can you charge it within removing from case

This case does not support wireless charging

Can you take a picture while phone is in the case